Testimonials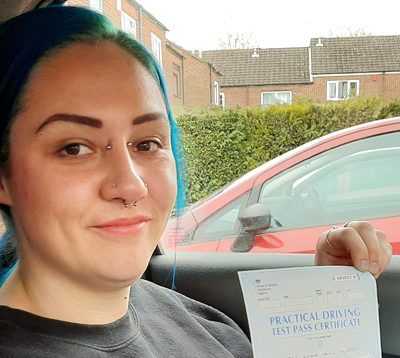 Emma
Well done passed first time !
Well done Emma I knew you could do it 😀
Lucy Holloway
Passed first time
YAY! We did it! Huge thanks for your support and patience. I couldn't have done it without you - though I will miss our catch ups !☹ Would recommend Judith in a heart beat.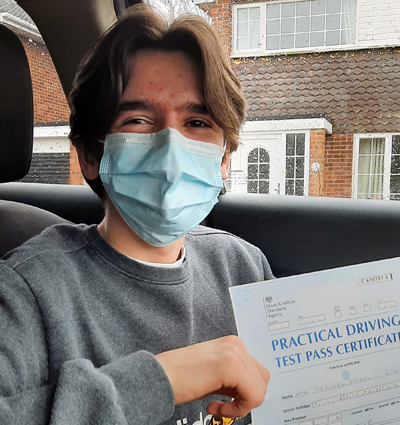 Samuel
Passed first time
Judith was very helpful in all my lessons and is a fantastic instructor that I would recommend. She is always very kind and calm even when I make mistakes.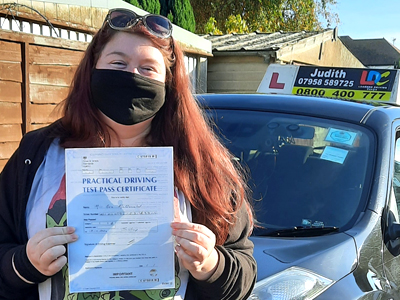 Bea
Fantastic pass 😁
Judith is a great instructor, she's calm and helps you relax whilst you're getting to grips with the road and the car. Thanks to Judith's guidance I passed and can start a new lease of life.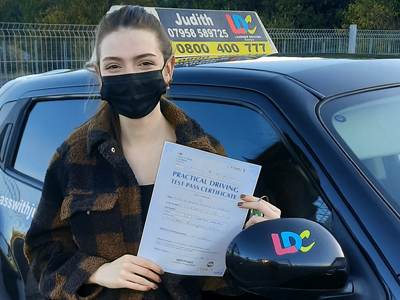 Rebecca
Passed first time
The best driving instructor, she made the whole experience really easy and I passed first time! I was really nervous and Judith helped to give me the confidence I need. I would definitely recommend!!!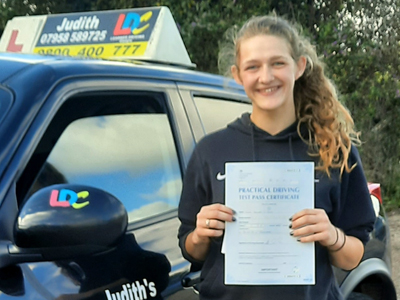 Carla
Passed first time
Best driving instructor, she gave me all the confidence I needed to have to pass first time. I would highly recommend her to anyone.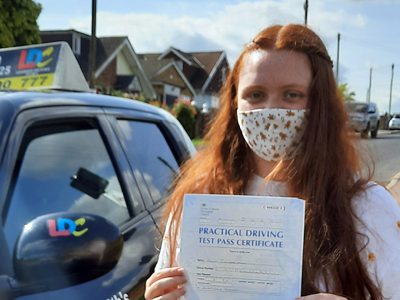 Alicia
Passed first time
Amazing! There has not been one bit of learning where I have been overwhelmed with the content because Judith has guided me through it step by step with a friendly nature.
Charlotte
Passed first time
Really easy and helpful, you weren't as scary as my Dad !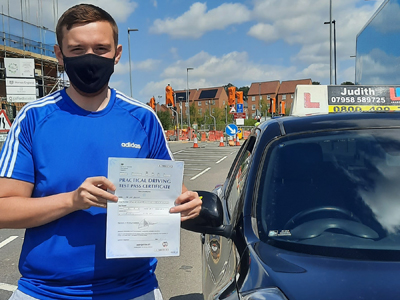 Jay Parker
Passed first time
Judith was amazing, best instructor I had. Lessons well organised always stayed calm and MOST of all let's you drive.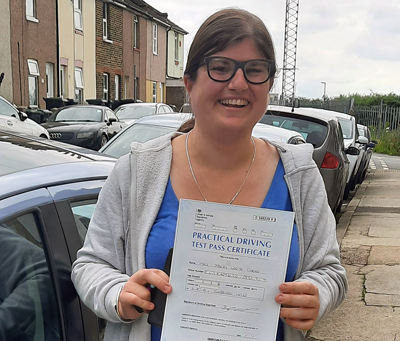 Stacey Clarke
Well done Stacey
Judith has been very patient with me, always going the extra mile to help me, whether it was changing test centres or encouraging me to take time out when my anxiety kicked off, thank you so much :)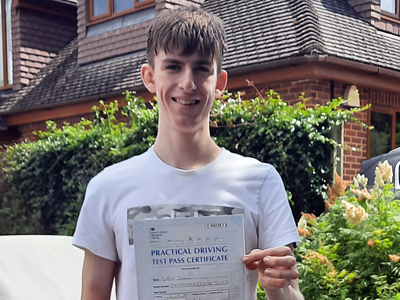 Callum
Passed first time
Well done Callum.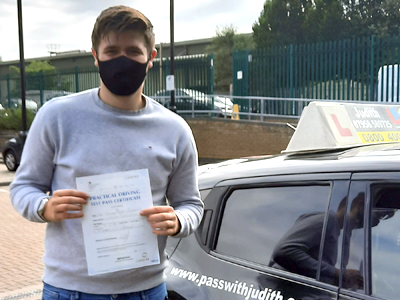 Tommy
Congratulations Tommy
Judith is an amazing instructor. She is patient, determined and helpful during all of my lessons. I highly recommend her.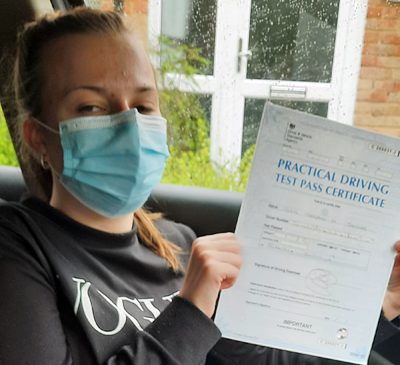 Megan Jones
Well done Megan.
Judith is a great driving instructor. Very patient, flexible, helps you through every step of the way.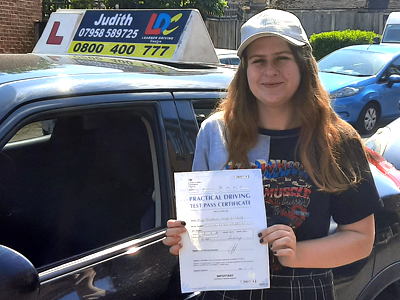 Madison
Passed first time
Well done Madison I knew you could do it 😁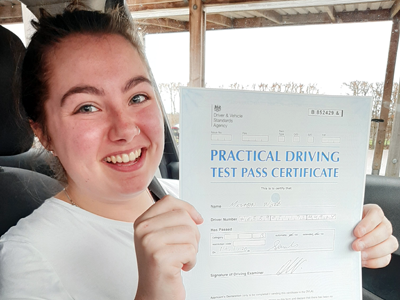 Meghan
Congratulations Meghan
Judith was very helpful when giving instructions and very clear on what I had to do. The LDC workbook was also very useful in explaining different manoeuvres and the process of learning to drive.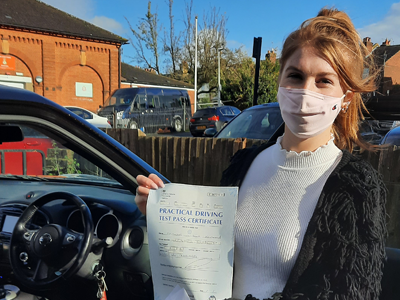 Bel
Well done Bel
The lessons were very good and detailed. Judith helped especially with my nerves throughout my tests.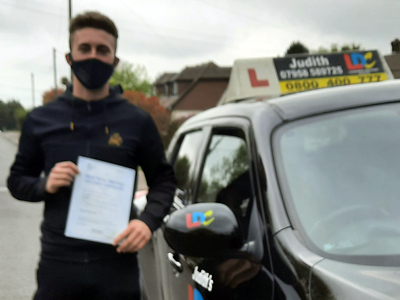 Josh
Passed first time
Very good instructor helpful and patient overall.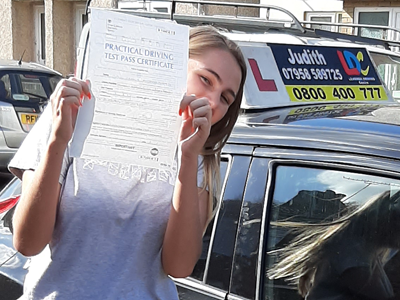 Crena
Passed first time
Judith is a brilliant instructor, the best in fact. I have had around 24 lessons and felt so ready to take the test and I passed. Judith is the lady who you should 100% do your lessons with x💓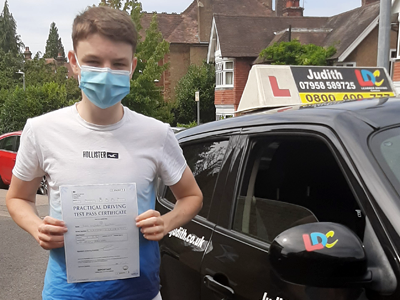 Ben
Passed first time !
Judith has been an absolutely lovely instructor. Very supportive, friendly and reliable. It's been a great experience learning to drive with her. The LD system has been super useful to help me pass my theory test and keep me on track with my lessons. Been a great journey! I would highly recommend.
Harry Addy
Passed 1st Time
Judith was very positive, supportive, hard working, kind and caring.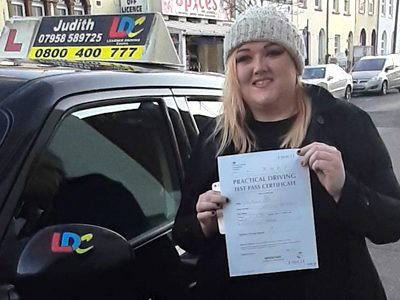 Tilly Wills
Brilliant well done Tilly.
Judith was an incredible instructor with all the patience in the world! She has helped me so much with my confidence and I am so thankful for her. The book was fantastic, I highlighted so much and it really helped with pre-test nerves. Thank you so much for everything.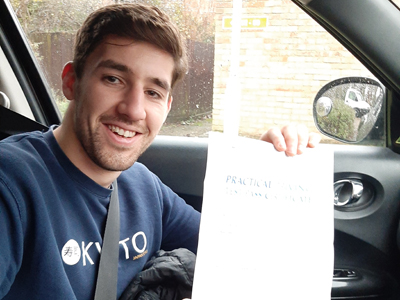 Billy Goldsmith
Well done Billy
* Good practice * Flexible times * Great price *Calm and contollled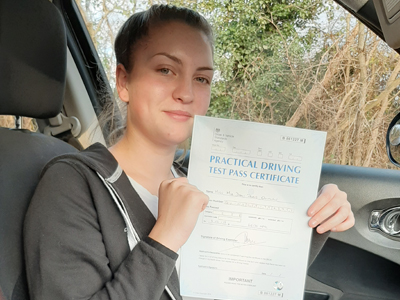 Mia Quinlan
Congratulations Mia First Time!!
Judith was a good teacher and made me feel very calm and comfortable. The way she teaches and helps makes you feel like she isn't just your instructor. Having experienced other instructors I have realised she was the best out all with time scales, learning, teaching and more.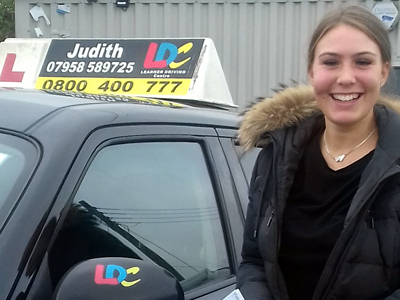 Amelia Pomphrett
Well done Amelia
Brilliant teacher. Made me feel very comfortable driving and relaxed.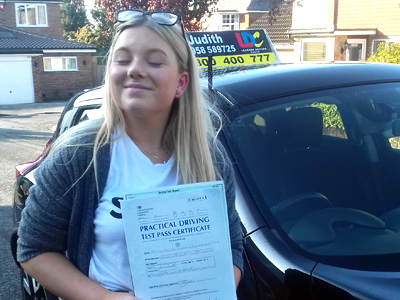 Millie
Congrats Millie
I loved working with Judith this past year. She has been so helpful and patient with me. The workbook helped me a lot when learning different info about driving. Thank you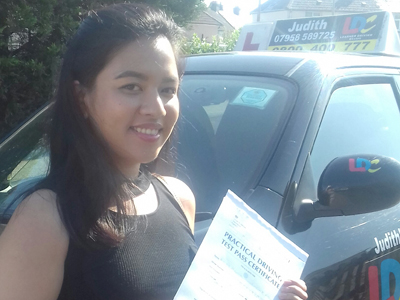 Aliana Aguila
Passed first time
Passed first time! Judith has been an absolutely lovely instructor. Very supportive, friendly and reliable. It's been a great experience learning to drive with her. The LD System has been super useful to help me pass my theory test and keep me on track with my lessons. Been a great journey! I would highly recommend.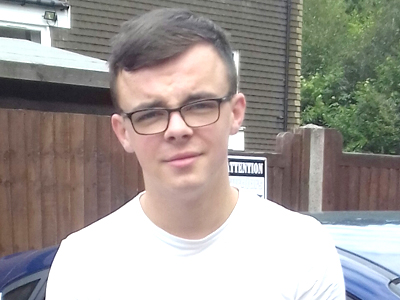 Kyle Wickens
Well done Kyle
Well done Kyle and only 1 minor fault!!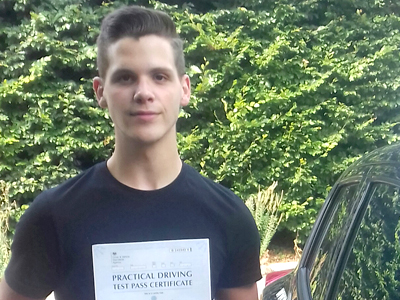 Jorge Bloomfield
Hurrah you passed Jorge!!!
Absolutely amazing teacher, very tolerant and understanding. If I don't understand something Judith will explain and explain until I understand.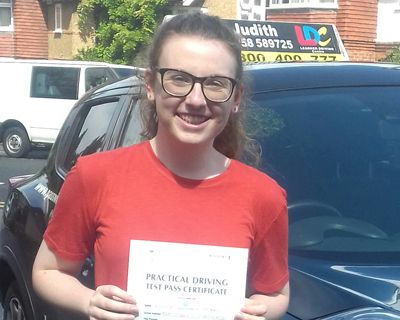 Victoria Bridges
Passed 1st Time
Judith is really friendly and helped me overcome a lot of fears about driving. The workbook has been very useful.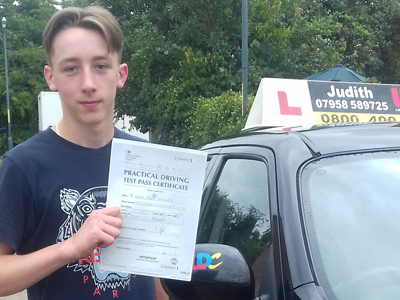 Kieron Colegate
Passed 1st Time
Judith is a very helpful instructor that has covered everything I needed for my test and I would highly recommend her as an instructor.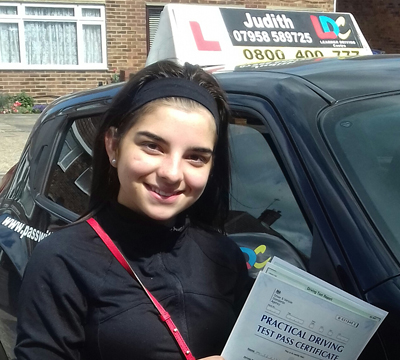 Ellie Batten
Well done Ellie
So glad I switched instructors, best teacher around!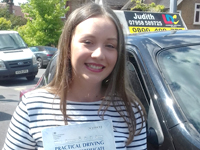 Lauren Tearle
Passed 1st Time
Judith has been a great teacher, so patient and helpful. The workbook was very helpful to keep up to date between lessons and help with any problems/questions.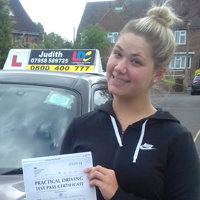 Jessie Luchford
Passed 1st Time
Judith is the best! She helped me so much, couldn't be more grateful for what she has helped me with.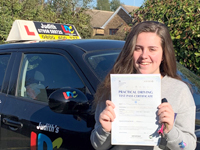 Megan Barham
Brilliant Megan Well done
Well done Megan fantastic pass worth all the work you put in.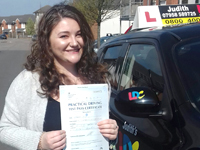 Amber Vick
Well Done Amber it's been a long time coming!!
Judith is amazing, very supportive and patient over the years of me learning on and off. She has become a friend. She provided me with all the materials I needed and helped me gain confidence in my driving abilities. Thank you so much would recommend to absolutely everyone.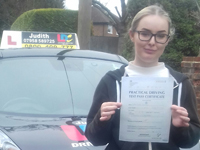 Amber Jennings
Congratulations Amber
Judith is a great teacher. She helped me overcome my nerves and to become a comfortable driver. The book she gave me was so helpful, I would definitely recommend her to my family and friends.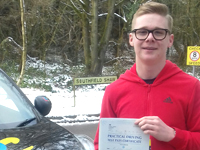 Finley Wood
Passed 1st Time
Well done Finley you did yourself proud passing 1st time with only 3 faults.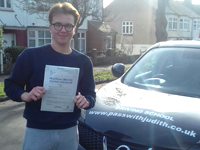 George Martin
Passed 1st Time with no faults!!
The LD system was extremely useful and Judith was extremely patient and helpful throughout all my lessons.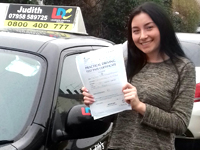 Daisy O'Flaherty
Congratulations Daisy
I couldn't have asked for a better driving instructor. Judith has been patient with me from the start to finish and I couldn't have done it without her, Thank you Judith!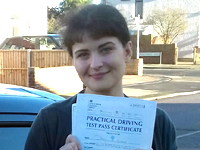 Daisy Evans
Well done Daisy
My instructor was amazing! Judith put me at ease, and her tutoring complimented the book I had on driving very well. I used the LDC app for my theory, and Judith and I also had a lesson driving round identifying signs and road markings. Overall the experience has been incredibly positive. and I recommend the method I've used.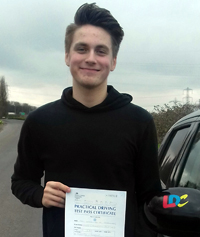 Zack Snelling
Passed 1st Time
Instructor was a great friendly teacher who helped whenever I made mistakes. Very easy to learn with and got me passed 1st time!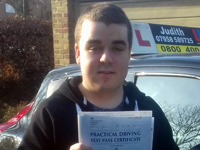 Shaun Fishenden
Passed 1st Time (with me)
Judith is brilliant: very patient and explains things well. The LDC book is also helpful for recapping key things in between lessons.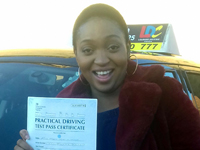 Mercy Ihediwa
Well Done Mercy
Judith is a star! She's brilliant, she's quality! I'm so pleased she was my instructor. She taught me test standards and I passed. She made learning so easy for me. I highly recommend Judith! The LDC workbook was very helpful also it covers everything you need to know. Brilliant!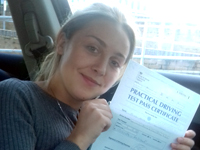 Ava Wilson
Well done Ava
Judith is very supportive, would not have survived without her!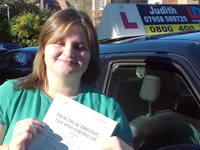 Maisie Moss
Well done Maisie
Judith is helpful, supportive and encouraging.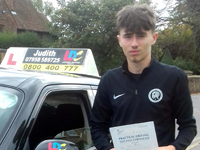 Leo Mabb
Well Done Leo
Congratulations Leo fantastic pass with only 2 minors and the day before your 18th!!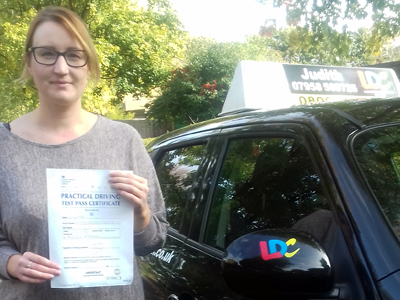 Emily Fitton
Well done Emily
I found my instructor and the LD system to be excellent. I was quite nervous about learning to drive and am a bit older than some other learners and Judith was really reassuring and helped me to feel relaxed and confident. I looked ahead to the future lessons in the book and was able to prepare so I could get the most out of the lessons.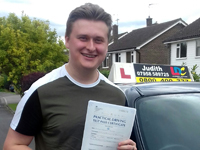 Alfie Penton
Congratulations Alfie
Judith is an excellent instructor who makes learning to drive a very enjoyable, stress free experience. She understands any issues that you may encounter and always gives you the expertise you need to overcome them. I have loved learning to drive with Judith and have recommended her to many of my friends. Thanks for helping me pass!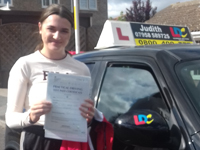 Josephine Butler
Passed 1st Time
Judith is lovely, extremely helpful and encouraging. She is very patient and always gives me help and support where it is needed. She has been an amazing instructor. The online hub and theory books were very helpful for me too look through and track my progress. The videos on the hub were easy to follow and helped me practice the manoeuvres.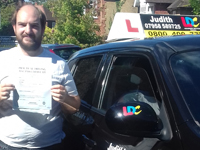 Will Pennell
Well done Will
I enjoyed the lessons Judith was patient and helped me with my nerves building my confidence. I would happily recommend to anyone.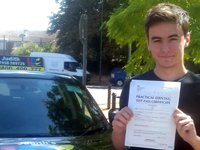 James Wilkinson
Well done James
Judith is an excellent instructor, she is very patient and friendly and gives great advice which was very beneficial on my test. She is very reliable with availability for lessons and they are very well priced. She is very good at telling you what you need to improve whilst highlighting the positives as you are driving. I would highly recommend Judith to everyone wishing to pass their test.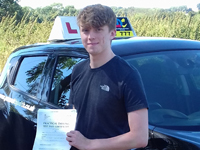 Kalum Snelling
Congratulations Kalum
Well done Kalum I knew you could do it.
Darcie Draper
Passed 1st Time
Judith has been nothing but amazing when teaching me to drive. She provided me with great tips with how to progress my driving knowledge and great resources on how to pass my theory.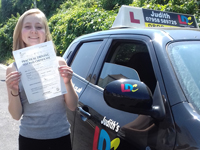 Phoebe-Emily Rimell
Well done Pheobe
My instructor was outstanding, helped me with everything. I wasn't confident and she encouraged me. Couldn't have asked for someone better to teach me.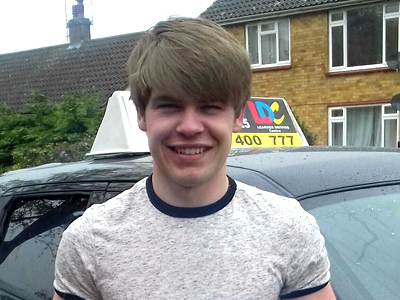 Tommy Gillingham
Congratulations Tommy
The Instructor is very helpful. I changed driving companies for a better result and the instructor helped in doing so. the resources supplied by LDC were very useful to me passing my theory and practical test.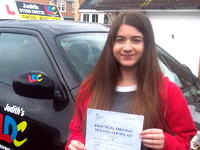 Chloe McLeavey
Well done Chloe
Judith was a great teacher because she made me feel comfortable when driving and helped me maintain a positive attitude when I was getting frustrated. I feel the book and website was very helpful.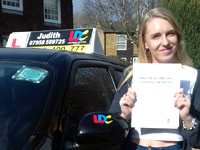 Zane Praulina
Well done Zane
When I first met Judith I instantly felt comfortable and knew she would be great. She gave me a book that explained everything about driving and was a great addition to the start. She assessed my driving in the first lesson and knew right away what we needed to practice. I always had a laugh with Judith and never a dull moment. She is fantastic and thanks to her I have my driving licence !!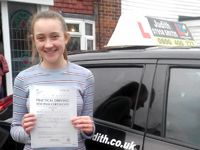 Dulcie Cook
Passed 1st Time
Judith was very welcoming and calm and always had confidence in my abilities. The online resources and workbook were also very helpful.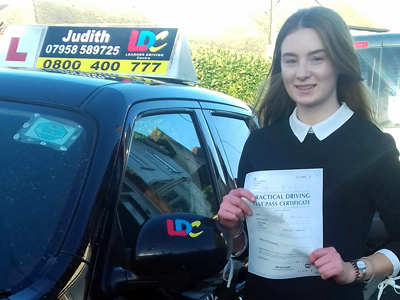 Libby Harwood
Passed 1st Time
All resources were really helpful including the workbook and online resources. Brilliant instructor always friendly and ready to answer questions.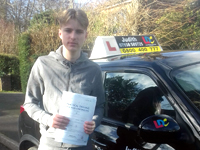 Elliott Cantwell
Passed 1st Time
Very good instructor, helpful with everything. Understanding and patient! Highly recommended.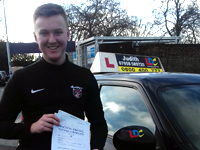 Sam Rogerson
Passed 1st Time
Everything was explained really well. Lessons were helpful and well structured. Workbook helped a lot, easy to understand.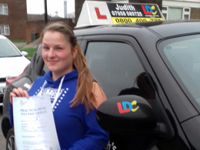 Zoe Taylor
Congratulations Zoe
From day one I have loved Judith. I'm a worrier and I panic so much but Judith has been amazing. I cannot fault her at all. We have had a change of car and the transition was really good. I used the workbook religiously throughout and even when I failed my tests I didn't give up because I had so much support.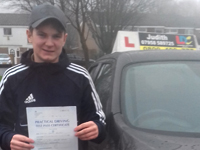 Kallum Sewell
Passed 1st Time
Judith is a great instructor. Kept me on my toes when driving and reassured me that I was a good driver.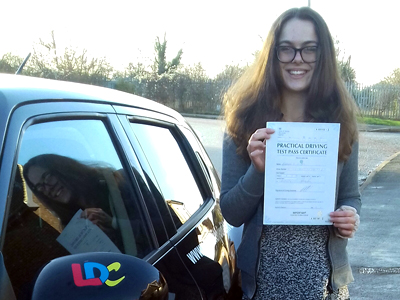 Rachel Gibbs
Well done Rachel
Couldn't fault my instructors teaching at all friendly very easy to get along with. Made me feel comfortable and confident throughout her teaching. Workbook was useful and the online theory preparation resources very useful.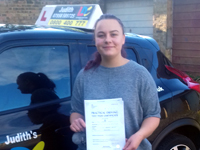 Charlotte Martin
Passed 1st Time
Judith was an amazing instructor. She kept me calm and assured me that I was a good driver.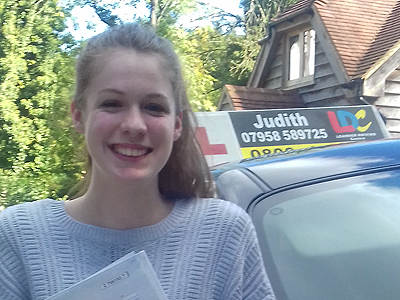 Ellie Summers
Passed 1st Time
The workbook was really helpful and in depth to help my understanding. Videos are very clear and useful as the instructions are clear, which I used to help my knowledge. The method which Judith teaches as well is very good, she's nice and friendly which makes driving comfortable and really enjoyable. Furthermore, it was relaxing and a great opportunity to learn with LDC. I would recommend LDC to any new learner and I just wanted to say a massive Thank You.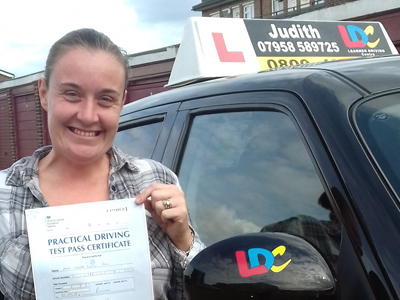 Sarah Gull
Passed 1st Time
Judith is a very good teacher, she helped me with my nerves. She understood me as a person and realised when I was making silly mistakes that something was bothering me. I would defo recommend her to my family and friends. The workbook I was given was a very big help especially with my show me tell me questions.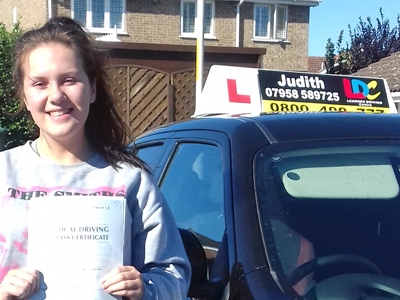 Georgia Butler
Congratulations Georgia.
My instructor Judith has taught me since February and has made my learning to drive experience very enjoyable. She is extremely patient and very good at explaining targets and how to improve in a thorough and simple way. The workbook I was given back in February is an excellent way to remind me of both the theoretical and practical aspects of driving and I love the quizzes and questions that you get at the end of each chapter to remind me of the knowledge. I also used the app for my phone when revising for the theory test. I found it to be a great help as I encountered all the possible questions for the test in order to help me learn new things about road safety and road signs for example. Overall learning with Judith is something I would highly recommend.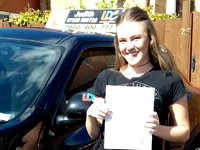 Lily Selby
Passed 1st Time
Great preparation with the online theory help. The workbook had clear diagrams and the lesson targets provided constructive criticism during my lessons, especially with manoeuvres. Fully recommend Judith, great teacher really easy to get on with and friendly.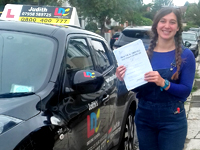 Kerry Bolland
Well done Kerry
Brilliant to follow along lessons with the student book before and after lessons. Watching the practical test on You Tube extremely helpful. Brilliant instructor Judith is kind and informative, helps spot and correct problems before they occur. 10/10 would recommend.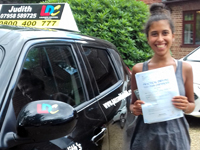 Natasha Berkley-Hill
Congratulations Natasha.
Judith has been so fabulous with me and so patient. I had so much trouble in the past driving with a previous instructor that I had built my nerves up so much to the point I didn't think I would ever drive. I'm so grateful to have learnt with Judith as she is an excellent teacher who has not only taught me how to be a proper driver but overcome my anxiety.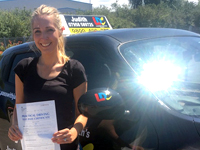 Amy Nelson
Passed 1st Time (with me)
I have had 5 previous instructors and failed 4 tests and then I found Judith, she has been absolutely brilliant and patient. I cannot recommend her enough being such a nervous driver she has pulled the best out in me and given me so much confidence. Well done Amy you really deserve it all the hard work has paid off - Judith
Call today on 01474 533585 or 07958 589725 or Email me to find out more
If you have any questions or to book lessons today, feel free to contact me